Trump still competitive in battleground states
There's roughly a year to go before we decide who will become President of the United States on January 20, 2021. Recent polls telling us who's up and who's down rarely cause a rise to my blood pressure.
Until the one that just came out, that is.
The New York Times/Sienna College poll, released yesterday, should be a wake-up call to all of us who think that Donald Trump is a disaster for America. The idea that he could win again, even with all we know about his presidency, is beyond frightening. However, when you look at the results of the poll, the warning signs are flashing loudly.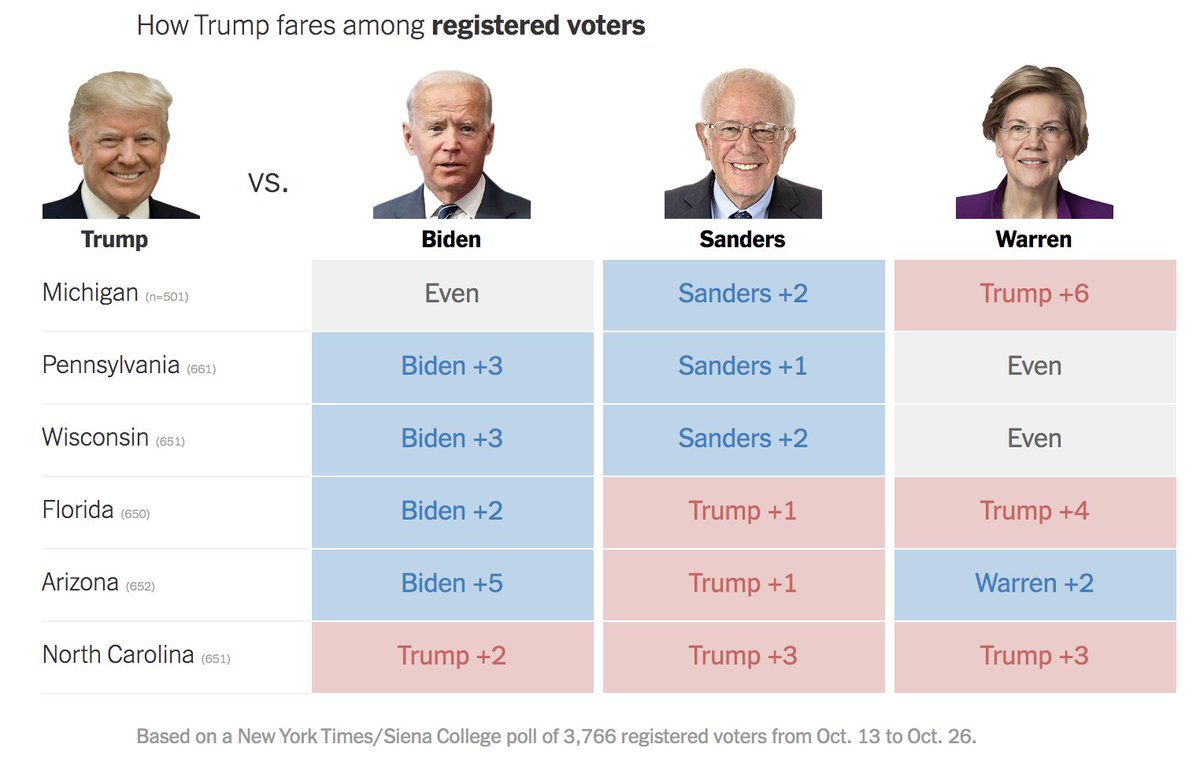 But many may ask, "What's the big deal? All the top tier Democrats are leading Trump overall nationally, some by nearly ten percentage points." That's true. Joe Biden, Elizabeth Warren, and Bernie Sanders all lead Trump when you ask the whole population who their voting preference would be. When you consider the whole population though, the results are skewed due to the inclusion of California and New York, two heavily democratic states.
So yes, if we held the popular vote today, Trump would lose 'bigly.'
Unfortunately, the popular vote in our country doesn't mean a damn thing. It's all about the battleground states and the dreaded Electoral College. And by looking at the poll, the current president isn't detested as much as we might think. He's got a real shot to win these states again, especially if Democrats do not nominate the correct person to run against him.
Among registered voters, Biden defeats Trump by small percentages in four of the states, is even in Michigan, and loses by two points in North Carolina. Sanders leads in three states by low margins, and Trump leads in three by equally small margins. Warren fares the worst, only beating Trump by two points in Arizona, barely losing to him in three states, and is even with him in two.
These particular states are important in that Trump won them all in 2016. Most experts agree that Democrats must win at least three of these states in 2020 if they have any chance of victory.
I'm not a polling expert. But these numbers spell trouble for Democrats, in my view. It's tough for me to understand some of the voting public, especially in these particular states. I look at the news coming out every day. Are they not paying attention? There's a disconnect, for sure.
Trump's approval rating has been consistent since the day he was sworn in, roughly 38-42%, and he remains the only president in modern history never to crack the 50% mark. Yet his base, concentrated heavily in these battleground states, poses a significant barrier for Democrats.
The fact is, the same voters who represent Trump's base, are not leaving him. White working-class voters with no college overwhelmingly favor Trump. Just as they did against Hillary Clinton in 2016, these voters will stick by him through thick and thin—crimes or no crimes committed.
As the results of the poll suggest, Trump's advantage in the Electoral College remains virtually intact since 2016. Through the Mueller Report, all of the various scandals and corruption, as well as the current impeachment inquiry–it doesn't matter. He could lose the popular vote by millions—and still keep his job. Only in America, I suppose.
I realize we're still a long way off till next November. So much could happen between now and then. If there's one thing we know for sure, this president will continue to abuse his office in ways we previously thought were unimaginable. Nothing shocks us anymore. The lows continue to sink even lower.
But this poll has changed my perception. While I'm generally impressed with the field of Democrats running for the nomination, I now find myself wondering which one of these candidates can beat Trump. My progressive heart says it's Elizabeth Warren. My brain says not so fast.
To be clear though, I'm not sure if this poll is an outlier or a significant trend. A recently released Emerson College Poll, for example, shows that in Michigan, Biden, Sanders, and Warren all beat Trump by 8-12 points. That would seem to contradict the New York Times/Sienna poll, which shows Trump performing much better there. At this stage of the campaign, it's just too early to tell.
However, it's not too early for my hair to be on fire. That's just me, I suppose. Not all of the public is in tune with the political world– not as much as myself, that is. That will change as we get closer to the 2020 election.
But my concern is genuine. We cannot let this man win the presidency again. And while I'd love nothing better than to elect a more left-leaning candidate who wants to do big things, realism has begun to set in. I can state, emphatically, that I will vote for whomever the Democratic candidate will be.
I know that Joe Biden is the safe vote. I realize his appeal to those white working-class voters who went for Trump in 2016, after voting for Obama twice before. He's a known quantity, is a good and decent man, and would hold up well against Trump's attacks. Even Trump knows this. He's not a fool, politically that is. He knows he'd have the most trouble going after Biden. Look no further than the current crisis he finds himself in. It wasn't Warren, Sanders, or anyone else who he wanted Ukraine to dig up dirt on. It was Biden.
My point here is not to endorse a particular candidate. I have my feelings, and I like some better than others. I realize that Biden isn't the new kid on the block. It's unlikely he'll inspire the 18-24 crowd much, at least not like Obama was able to do. But yes, Biden can win. And if he's the guy, I'll vote for him enthusiastically. If it's Elizabeth Warren? I'll do the same. Sanders? Of course.
Again though, this is my view. What worries me most, and even keeps me up at night, is whether the rest of the country feels the same way. Not the Trump cult, of course. We know what they're going to do. It's the rest of the voting public that concerns me.
When I see progressives on Twitter and other social media closing ranks around a single candidate, it worries me. Why? The vitriolic back and forth I see daily, makes me think we could easily have another repeat of 2016. Back then, we had Bernie Sanders and Hillary Clinton supporters at each others' throats. Many of the Sanders people decided it was better to support third-party candidate Jill Stein and others, rather than punch the card for Hillary. We know what happened, do we not?
I get the passion and allegiance. I sincerely hope, however, that when it's all said and done, reasonable people will get out and vote for the Democratic candidate. The Times/Sienna Poll tells us that the most unpopular and corrupt president in our lifetime could win again. Yes, my hair is on fire, and my blood pressure is up.
Am I wrong?